Damn. That was one beautiful show. I don't think I've ever seen a better package.
The Kin
, as the opening act worked very hard to win the audience over. It was an uphill battle as virtual unknowns and less than 1/2 the audience seated. I enjoyed their solid rock sound and was fascinated by their drummer, Shakerleg (the Aussie brothers picked him up while working in New York), who eschews drumsticks in favour of his bare hands and some tape. There is a short article about Shakerleg at
Modern Drummer
. Wondering if
+Ian McQuillan
has ever tried this?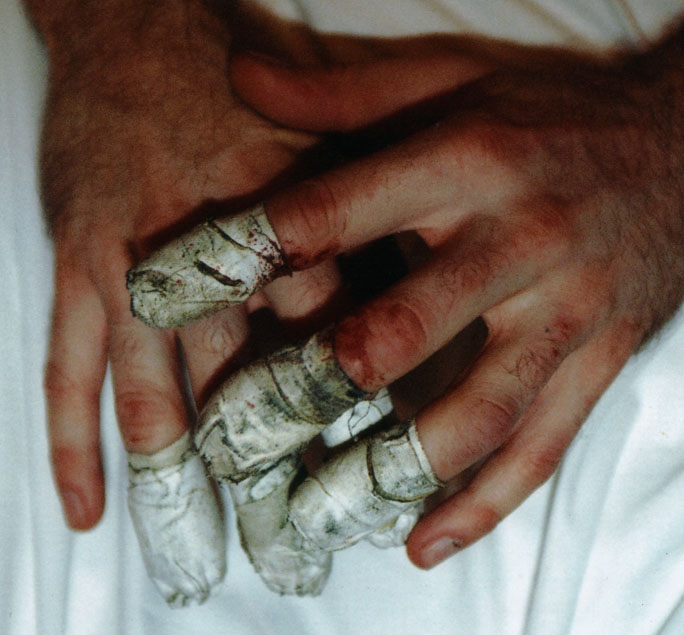 From his website: shakerleg.com
Here are The Kin on Conan O'brien. They did this number at the concert, but it sounded a bit heavier and the
didgeridoo
(wikipedia) segment at the beginning was much extended.
Pink's performance was inspiring.
I dub her...
An earthy, athletic and completely bad-ass Tinkerbell.
I wish I had the opportunity to photograph her show. There was so much to look at and the lighting was amazing. Obviously cameras not "allowed" and my iPhone was not up to the task that would be better suited to a 300mm lens, so I'm linking to a single photo from
P!ink
's website. You can go there or Google if you want to see what the rest of the concert was like. The photo below is pretty indicative of the 20% of the show that took place in the air.
I need to thank
+Jodi Barrington
. We had originally planned to go together. When tickets became too expensive for me (cheapskate that I am) she bought them and made me go anyway. Wow! So glad you did. Thank you. Thank you. Since I didn't pay, I won't tell you what the tickets cost. But, I will show you where we were sitting...
We had a much better view of the spotlight operator than the stage. And no, there were no more seats behind us :) We didn't stay long. 1/2 of the seats were still empty when The Kin took the stage so we said farewell to the outcasts nearby and moved 1/3 of the way through Credit Union Centre until we were in what I would call fine seats (my nose stopped bleeding almost immediately). We were bumped from these illicit seats twice during the break after The Kin had finished playing. In a counter intuitive master stroke, each time we were bumped from our seats, I moved us a little closer to the stage. The concert was eventually packed and I am shocked that we managed to luck into a tiny pocket of 4 seats that no one ever claimed.
A mid January day could be a lot worse than sneaking into some great seats and being awed. Seeing talented people do many of the things that I think I do so well, so well... What a treat. That, to go along with the +8C weather? Excellent! The 70kmph winds were just a lucky bonus.
I need to mention the clown, Rubix von Füchenhürtz, who was absolute perfection in his role as host. I don't think he was played by the usual
Jimmy Slonina
, but I can't find any info as to who might have been filling his sassy shoes. Or perhaps my eyesight is going.
Great show.